Digipalooza 2021 Virtual Program
Digipalooza '21 brings together a worldwide community of experts – including librarians, educators and literacy professionals, publishers, technologists, AI and marketing leaders – to share how ebooks and audiobooks impact our institutions and the communities they serve. Join industry leaders who use data-driven decisions to drive best practices and shape the next chapter of digital content for readers everywhere.
Three half-days of presentations, keynotes and panel sessions from industry leaders. Learn digital library best practices from top performing Public, School, Academic and Corporate and Special Librarians. Engage with expert publishers, authors, technologists, privacy and security officers, equity and inclusive specialists, and data scientists.
These sessions will inspire, challenge and educate you on up-to-the-minute opportunities to maximize the value of your digital collections. The Digipalooza mission is to provide proven solutions and "how-to" sessions for all institutions to better serve all readers as you improve access and better engage your audience and communities.
In true Digipalooza fashion, we'll also build in conference time to network with your peers from across the industry. Fun and entertainment will round out this celebration and more for digital media in the library.
Check back regularly as we confirm keynotes and more!
Filters
---
Need help calculating your timezone?
1:00 PM
(15 min)
Welcome & Introduction
Whether this is your first Digipalooza, or you've attended each event since 2006, welcome! We'll kick off the conference with a guide to an exciting 3 half-days to help you maximize your time and find ways to engage with presenters, exhibitors, sponsors and other attendees.…
Session Type: General
Speakers:

TBD Name
TBD Title
TBD Organization

TBD Name
TBD Title
TBD Organization

TBD Name
TBD Title
TBD Organization

TBD Name
TBD Title
TBD Organization
1:15 PM
(30 min)
Digital Access for All: How Government Investments for Libraries and Schools in 2021 are Succeeding
One of the biggest and most consequential issues of our time is access to the Internet. Join this session to get current information on how the CARES ACT and other government initiatives are bringing everyone online. Our panelists will provide a national perspective as well as recent local wins and best practices on navigating the maze of funding.…
1:45 PM
(30 min)
Keynote: Dr. Carla D. Hayden, 14th Librarian of Congress
Dr. Carla Hayden, nominated in 2016 by President Barack Obama as the 14th Librarian of Congress, will join us for an intimate one-on-one interview. She'll share her views on the important and unique role that libraries play in the community, the impact of the digital shift, and a vision for a post-pandemic future.…
Session Type: General, Keynote
Speakers: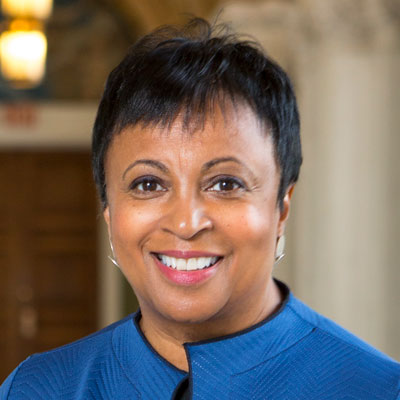 Dr. Carla Hayden
14th Librarian of Congress
Library of Congress
Dr. Carla Hayden was sworn in as the 14th Librarian of Congress on September 14, 2016. Hayden, the first woman and the first African American to lead the national library, was nominated to the position by President Barack Obama on February 24, 2016, and her nomination was confirmed by the U.S. Senate on July 13.
Prior to her latest post she served, since 1993, as CEO of the Enoch Pratt Free Library in Baltimore, Maryland. Hayden was nominated by President Obama to be a member of the National Museum and Library Services Board in January 2010 and was confirmed to that post by the Senate in June 2010. Prior to joining the Pratt Library, Hayden was deputy commissioner and chief librarian of the Chicago Public Library from 1991 to 1993. She was an assistant professor for Library and Information Science at the University of Pittsburgh from 1987 to 1991. Hayden was library services coordinator for the Museum of Science and Industry in Chicago from 1982 to 1987. She began her career with the Chicago Public Library as the young adult services coordinator from 1979 to 1982 and as a library associate and children's librarian from 1973 to 1979.
Hayden was president of the American Library Association from 2003 to 2004. In 1995, she was the first African American to receive Library Journal's Librarian of the Year Award in recognition of her outreach services at the Pratt Library, which included an after-school center for Baltimore teens offering homework assistance and college and career counseling. Hayden received a B.A. from Roosevelt University and an M.A. and Ph.D. from the Graduate Library School of the University of Chicago.
Moderator:

TBD Name
TBD Title
TBD Organization
2:15 PM
(30 min)
Equity, Representation and Your Digital Library
Diversity issues impact all communities. Libraries have been at the forefront at this critical time in our history, leading the way by tackling misconceptions with programs and materials. Join library leaders who have successfully planned and organized collections that serve all members of the community. …
How Your School's Collection Can Support DEI for Students
Join this experienced group of educators to learn best practices for building, curating, supporting and promoting a digital collection that celebrates all members of your community. Learn how a diverse collection supports inclusion and equity, SEL, MTSS and individualized learning.…
Bringing Diversity, Equity and Inclusion to Your Workplace or Campus
Prepare your employees or higher ed students for the workforce with impactful titles to help guide lifelong skillsets in support of common goals. Learn how books make the world a better place and the best practices to bring positive change to your organization or campus.…
2:45 PM
(15 min)
Digipalooza CONNECT: Networking Break (LIVE)
3:00 PM
(30 min)
Trends and Insights from the Surge in Library Digital Circulation
What began in March of last year has continued, with some expected seasonality, causing several new trends and opportunities as Public Libraries study patron demand and usage. Record transactions are providing larger data sets for analytics to reveal how libraries and catalogs are serving their communities. This session will share valuable insights to help guide your collection development and tech service planning. …
Digital Book Impact Report from Districts Where Digital is Flourishing
Join educators reporting on success with digital books for their curriculum (required reading) and where recommended collections (self-selected titles) are in high demand and use. Learn best practices for your districts and buildings as you consider the impact of digital books on curriculum and school libraries: 'before,' 'during' and 'after'.…
Lessons from the Data for Academic and Corporate Libraries
Learn from a expert panel of librarians how the past year and a half altered the digital landscape for academic and corporate libraries. We'll share trends, best practices and insights based on data from thousands of libraries worldwide.…
3:30 PM
(45 min)
Community Reading Programs, Digital Book Clubs & More
Going digital has yielded some unexpected results benefiting the library, readers and publishers. From replacing a single author event to participating in community (and national or global) reading programs, discover how virtual shared reading experiences can attract and delight audiences near and far. …
How to Use Digital Books with Your Curriculum
If your curriculum is anchored by high-quality trade books for required reads, you know that great books engage students. But how do you ensure that every student gets the right book? How does a great student reading experience support your learning objectives, and what are the best practices for implementation? What data indicates student engagement? You'll emerge from this session like a digital sommelier, ready to pair digital books with your curriculum's list of required and supplemental books.…
The Future is Now: How a digital catalog best complements your physical library
With a digital library, mobility and convenience are king. Which subjects and special collections leverage the digital advantages best? With offline access, ebooks and audiobooks can deliver professional development, important information and entertainment 24/7 anytime, anywhere. Learn which areas of your catalog have proven to be most popular.…
4:15 PM
(30 min)
The Future is Listening: How Audiobooks Continue to Delight Readers
The future of listening is impacting all aspects of the book industry in meaningful ways to attract, engage and educate your readers. Learn from industry leaders about innovations and new categories that will make your audiobook collection more popular than ever.…
4:45 PM
(15 min)
Day 1 Wrap Up & Takeaways… LIVE
Day 1 Wrap Up & Takeaways… LIVE
Day 1 Wrap Up & Takeaways… LIVE
5:00 PM
(1 hour)
Social Hour: Virtual Social Event (LIVE)
12:00 PM
(1 hour)
Exhibit Hall – GRAND OPENING…. LIVE
Join our partner exhibitors and sponsors in the Exhibit Hall.
Session Type: Exhibit Hall
1:00 PM
(5 min)
Welcome & Day 2 Preview…. LIVE
1:05 PM
(40 min)
Actionable Data and Intelligence From Your Digital Catalogs
Data, insights and trends of the who, where, how and more from your readers and students. This session will share how data-driven decisions can tell you how best to serve your community and maximize your budget.…
1:45 PM
(30 min)
Keynote #2 TBD
Session Type: General, Keynote
2:15 PM
(30 min)
The Next Chapter of Publisher-Library Relations
The balancing act continues. As digital catalogs grow and access models proliferate, how can libraries assure all stakeholders benefit from reader discovery and engagement that libraries uniquely deliver? Hear publishers' perspectives about how the digital landscape continues to evolve and what this means for publisher and library relationships.…
The COVID-19 Disruption on Publishing and How Publishers Adapted
When supply chains were disrupted in 2020, publishers were forced to innovate and evolve to meet the new demand for digital in the classroom. Learn how top publishers changed products and business models to provide schools more access to more content.…
Spotlight on New Publishers, Collections and Resources for your Digital Catalog
Join us for the latest updates from the publishers that are seeing the greatest interest and growth in academic and corporate library catalogs.
2:45 PM
(30 min)
Beyond Ebooks: How New Types of Digital Content Drive Community Engagement
While ebooks and digital audiobooks have proven their popularity over the years, make room for new types and sources of digital content. Learn about exciting developments developments with streaming video, learning services and databases, and hear success stories of libraries that are finding new patrons and engaging more with existing ones.…
How One Large District Adapted to a Digital Curriculum
With the digital shift accelerated in 2020, many schools expanded the scope beyond libraries and into the classroom. Learn how one district made this shift, including tech integrations and PD, to provide students effective and efficient access to digital books.…
Trends in Demand for Non-Academic Materials for Academic Campuses
After research and curriculum support, what are students looking to their academic libraries for? Join this panel session to learn how universities are seeing increased engagement with trade ebooks and audiobooks and other popular materials.…
3:15 PM
(15 min)
Digipalooza CONNECT: Networking Break (LIVE)
3:30 PM
(30 min)
Connecting Communities: Building Library & School Partnerships with Your Digital Collection
More than ever, students are using new techology to leverage public library catalogs directly from the classroom, gaining instant access to curated, age-appropriate collections of digital books. Learn how Public Library CONNECT is providing extraordinary success for libraries, schools and, especially, students. …
Empowering the Workforce: Real World Examples of Corporate Libraries Leveraging Digital
Mirroring success in public libraries and schools, companies and organizations of all sizes are using digital content for both efficiency and professional growth reasons. Learn how leading companies are leveraging the power of digital to empower their workforce.…
4:00 PM
(30 min)
Like, Follow, Share, Retweet: Paving the Way to Social Media Success
Reaching all parts of your community has never been more critical for the success of the public library. Join us to learn how to raise your status as social media influencers and leverage practical tools such as local PR to help bring your library's social presence to the next level.…
Reach and Embrace the TikTok Generation to Read More
What are the best ways to reach your students? Meet them where they are. Learn the best practices of creative educators as they share their successes and lessons learned in promotion, social media and other marketing tactics.…
Best Practices to Promote Your Digital Collection
You've got a great collection and an award-winning app. How do leading schools and companies get the word out? Join us to see a variety of winning promotional and marketing campaigns to capture mindshare on your campus or building.…
4:30 PM
(30 min)
OverDrive Technology & App Updates
In this fast changing environment, it's essential to ensure continuous innovation to maximize ROI for your digital investment. Join OverDrive tech leaders to learn about our latest innovations to Libby and other patron-facing services to improve user satisfaction.…
OverDrive Education Technology & Sora App Updates
Stay on top of the latest advancements to Sora. OverDrive Education technologists will detail the roadmaps for Sora user experience upgrades, as well as integrations with platforms such as Clever, Google and Schoology.<…
OverDrive Professional Technology & App Updates
As your use of OverDrive increases, what comes next? Join us to learn about our plans for user experience enhancements as well as best practices for mastering technology options from MARC Records to APIs to Libby.…
5:00 PM
(15 min)
Day 2 Wrap Up & Takeaways…. LIVE
Day 2 Wrap Up & Takeaways…. LIVE
Day 2 Wrap Up & Takeaways…. LIVE
5:15 PM
(45 min)
Social Hour: Virtual Social Event (LIVE)
12:00 PM
(1 hour)
Exhibit Hall – GRAND OPENING…. LIVE
Join our partner exhibitors and sponsors in the Exhibit Hall.
Session Type: Exhibit Hall
1:00 PM
(5 min)
Welcome & Day 3 Preview…. LIVE
1:05 PM
(25 min)
Scaling Up Your Digital Catalog with New Content Access Models
Digital book lending by libraries requires navigating numerous publisher-established terms and permissions. As librarians seek to develop collection development practices that are sustainable and meet demand for materials, come learn how the balancing act is being successfully managed within today's landscape. Now, models include Sim Use, Cost per Circ, Limited Concurrent Use. Learn tips and best practices for using these models to stretch your budget most efficiently to meet the demands of your readers.…
6 Ways to Maximize Budget with Digital Books
Attend this session to learn the practical skills savvy educators use when they buy digital books for their schools. Where do digital books come from, and what factors impact their cost? How do you develop your strategy and budget for digital? How do you plan for multiyear adoptions, and how do Education Stabilization Funds (pandemic relief/CARES Act/ESSER, etc.) impact your buying decisions? You'll emerge from this discussion with a better understanding of digital books, ready to tackle the future of reading with an analysis of newer access models such as Digital Class Sets and Limited Concurrent Use.…
1:30 PM
(30 min)
10 Creative Outreach Tips to Get More of Your Community Reading
Join OverDrive's Outreach Services team to hear best practices and innovative ideas to connect with your community and get the word out about Libby or Sora. Learn how the Resource Center can help support your marketing and training efforts and see practical examples from libraries & schools across the globe who have found new ways to engage readers, even during the most challenging times.…
2:00 PM
(30 min)
Marketplace Master Class for Librarians
Launched in 2003, OverDrive Marketplace is the industry's leading source not only for your digital catalog, but also for helpful tools and insights to help you maximize the value of your digital investment. Join OverDrive and partner library experts to learn tips and tricks to navigate Marketplace most efficiently.…
Marketplace Masterclass for Educators
OverDrive Marketplace is the central point for your Sora reading platform, providing access to a huge catalog of content, tools and insights you need to deliver a successful digital service for your school. Join us for a tour of all that Marketplace has to offer.…
2:30 PM
(30 min)
Protecting Reader Privacy and Navigating Regulations
Students in the classroom and all citizens are entitled to privacy protections when using services from their schools and libraries. This session will provide an update on federal and regional requirements and duties incumbent upon all those who handle patron and user data.…
3:00 PM
(15 min)
Digipalooza CONNECT: Networking Break (LIVE)
3:15 PM
(30 min)
Your OverDrive Service of Tomorrow (a.k.a. Steve's Crystal Ball Report)
Get a sneak peek behind the curtain at what's new and coming from OverDrive for public libraries, schools, colleges and corporate libraries.
3:45 PM
(30 min)
Closing Keynote
Session Type: General, Keynote
4:15 PM
(15 min)
Final Wrapup and Goodbye… LIVE
Session Type: General